Desolate Insurgence is an expansion for Desolate, which adds the ability to play the game with up to four players. In addition to the ability to play with multiple players, Insurgence also adds the Scrap Pile micro expansion. You will need both the core game and both Dark Matters Boosters to use Insurgence. You can pick up the core game as part of this Crowd Sale for a discount. Both Dark Matters Boosters are at their set low standard pricing.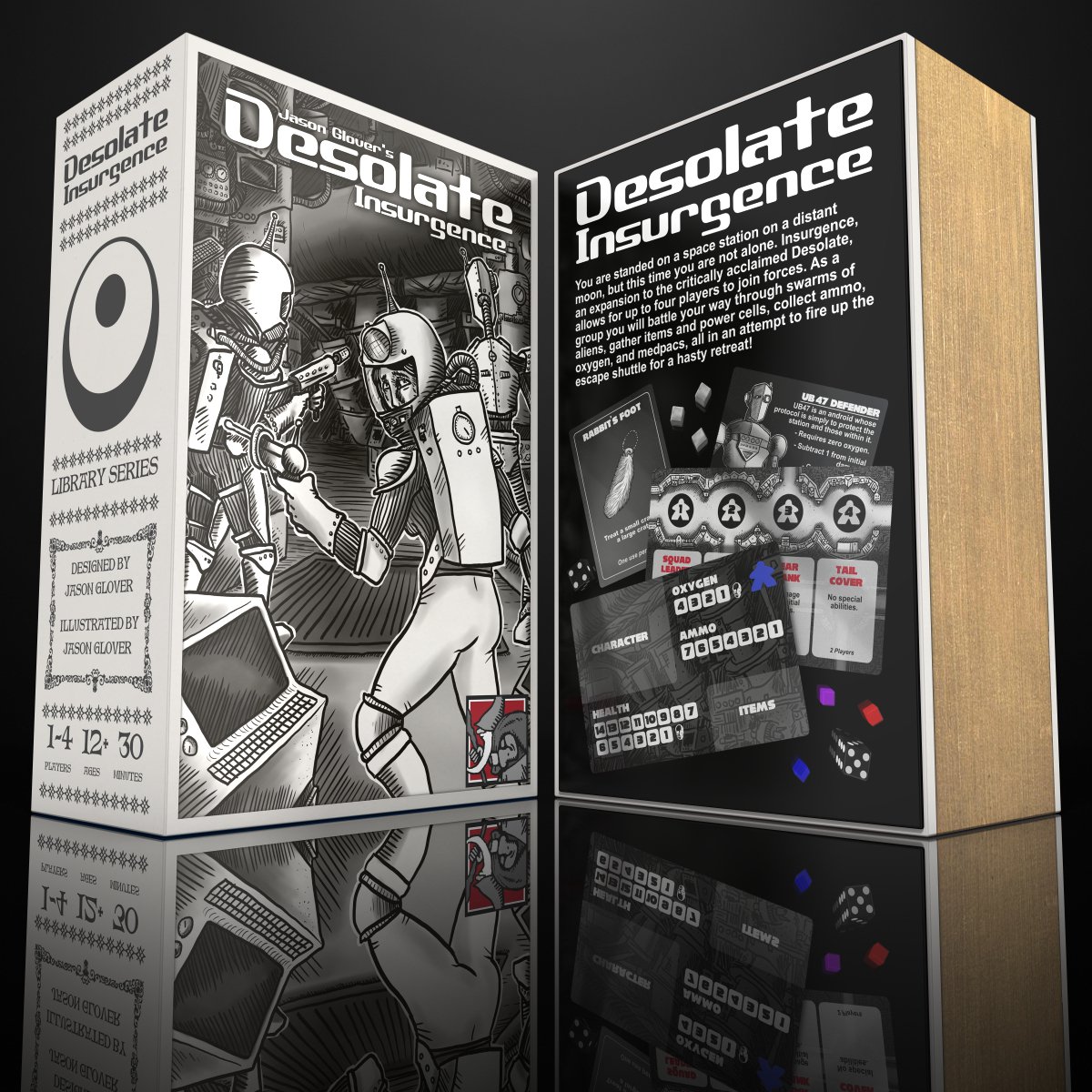 ---
What Comes in the Box?
1 Stout Box - This extra sturdy box is twice the size of the core game box and will house both the core game and all expansions.
4 Player Cards - These jumbo cards allow each player to track their own character's resources.
1 Position Tracker - This jumbo card keeps track of which tactical position each player is in.
6 16mm Black Dice - Now each player can track their own conflicts.
9 8mm Cubes - These are for each player to track their resources.
4 Jumbo Meeples - These translucent meeples are used to track the player's position.
10 10mm Silver Cubes - Track your scrap with these tokens.
1 Exploration Card - The Workshop allows you to spend scrap to build a power cell.
1 Character Card - Play as a robot with all new mechanics.
6 Items - More items to find, including two all new ones.
10 Tactics Cards - These determine which aliens attack which players during conflicts.
---
What is Desolate?
Desolate is a solo-play card and dice game. You have many choices that will ultimately equate to your survival or your demise. Do you explore the first room you reveal, or press-your-luck and skip it to move on to another, and be forced to resolve the second? When you encounter an alien you must decide how much ammo you want to spend (Each ammo equals 1 die roll) in order to defeat it. Do you over-spend for a certain victory, or take a chance a spend less? When you defeat a foe and open a crate, do you take the larger more valuable resource, or the lesser valued resource that may be more useful now? Do you use a powerful one-use item early on in the game, or wait?
There are many choices per game, and when you die, and you will often, you will not be able to blame the roll of a die or the draw of card as much as you will have to blame yourself. You will be invested. You may yell at the dice before rolling. You may jump to your feet when you find that final power cell and fire up the escape shuttle for a sweet sweet victory.
Core game shown above.
---
Quotes & Reviews
"Desolate is a solo gaming gem: quick, simple, engaging, and immersive."
"An excellent, smooth and streamlined solo experience. The artwork and theme grabbed me initially but the game play is just as great."
Steven Aramini - Designer of Circle the Wagons & Yardmaster
"I commonly agonize over every single card, and it's torture to turn over a card for loot and realize I just looted an engineering card. Very Fun!"
Ben Haskett - Publisher of Oaxaca & Project Dreamscape
"Great, tight solitaire press your luck game. Every turn offers choices, and your immediate needs (oxygen!! Ammo!!) can really influence your strategy. Plays really fast and gets a bit addictive!"
Chris Leder - Designer of Roll For It! & City of Gears
"A solo space adventure that will see you fail and fail again but you are guaranteed to come back for more! I feel desolate is a compact, bare bones experience where everything has been designed with a purpose and a balance that makes it easy for me to recommend adding this to your library."
James Rowlinson - ICHC Reviews
"Super easy to learn and setup, and the artwork is amazing. Buy this game! It is awesome!"
"I really enjoy it. It is a fun little small box game."
Why buy this?
Multiplayer cooperative tension!
Thematic black and white illustrations!
Critically acclaimed gameplay!
Requirements
Downloads
{{download.properties.name}}
Free
After Purchase
Components
Component
Quantity
Photo
Jumbo Deck
1 deck of 1 cards
Jumbo Deck

1 deck of 1 cards

Jumbo Deck
1 deck of 1 cards
Jumbo Deck

1 deck of 1 cards

Jumbo Deck
1 deck of 1 cards
Jumbo Deck

1 deck of 1 cards

Jumbo Deck
1 deck of 1 cards
Jumbo Deck

1 deck of 1 cards

Jumbo Deck
1 deck of 1 cards
Jumbo Deck

1 deck of 1 cards

Jumbo Deck
1 deck of 1 cards
Jumbo Deck

1 deck of 1 cards

Poker Deck
1 deck of 10 cards
Poker Deck

1 deck of 10 cards

Poker Deck
1 deck of 1 cards
Poker Deck

1 deck of 1 cards

Poker Deck
1 deck of 6 cards
Poker Deck

1 deck of 6 cards

Poker Deck
1 deck of 1 cards
Poker Deck

1 deck of 1 cards

Small Stout Box
1
Small Stout Box

1

Document
1
Document

1

D6, 16mm, Black
6
D6, 16mm, Black

6

Ice Cube, 10mm, Opaque, Silver
10
Ice Cube, 10mm, Opaque, Silver

10

Ice Cube, 8mm, Transparent, Blue
3
Ice Cube, 8mm, Transparent, Blue

3

Ice Cube, 8mm, Transparent, Purple
3
Ice Cube, 8mm, Transparent, Purple

3

Ice Cube, 8mm, Transparent, Red
3
Ice Cube, 8mm, Transparent, Red

3

Meeple, Large, Acrylic, Transparent, Black
1
Meeple, Large, Acrylic, Transparent, Black

1

Meeple, Large, Acrylic, Transparent, Blue
1
Meeple, Large, Acrylic, Transparent, Blue

1

Meeple, Large, Acrylic, Transparent, Orange
1
Meeple, Large, Acrylic, Transparent, Orange

1

Meeple, Large, Acrylic, Transparent, Red
1
Meeple, Large, Acrylic, Transparent, Red

1