NORMALLY $29.99 NOW ON SALE FROM APRIL 17-26 FOR $23.99!
Equestrians Against Normalcy is the must have card game for horse lovers. Designed by a lifelong equestrian for the adult equestrian to enjoy with their friends in the stable, at home, or at the shows.
Eventers. There is no medication for our type of crazy. But card games do help.
So Equestrians Against Normalcy is doing our part by providing a card game made just for Eventers. Our Extreme Eventer Deck is perfect for killing time during events, while you hang out in the stable, relax with friends, or are stuck on crutches. So if you are looking for a horse card game this is a must have for the Eventer in your life. You can play the Extreme Eventer deck on it's own or combine it with any of the other EAN decks for longer game play.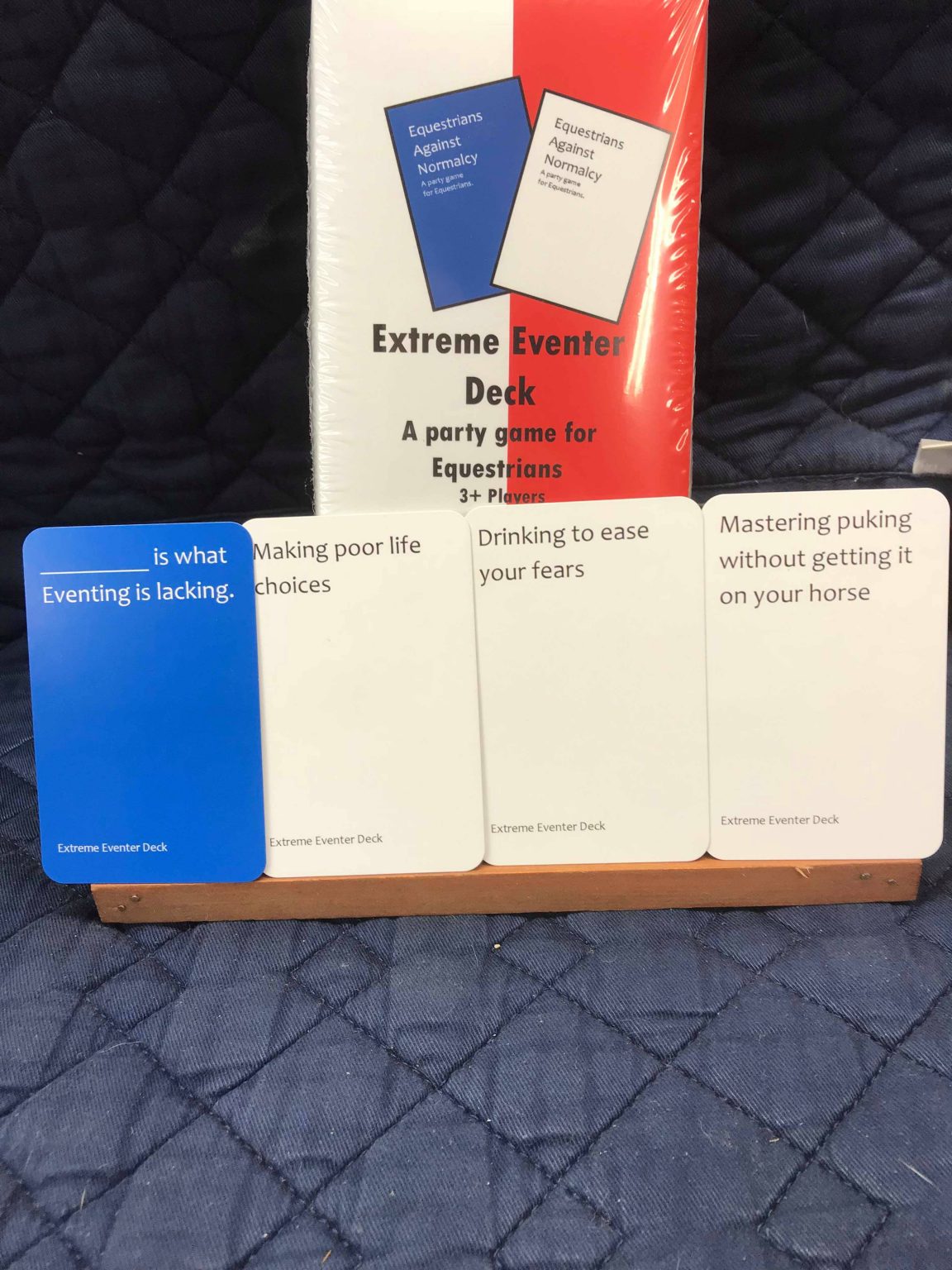 Please Note, all the EAN games are printed on demand by The Game Crafter. There will be an estimated ship date in your cart when placing your order. Please make sure to order far enough ahead to allow for the time needed to make and ship your game, especially during the holidays. You can see TGC return policy here: Return Policy - The Game Crafter
Equestrians Against Normalcy Rules:
Everyone starts off with 10 White cards. The person who fell off most recently goes first by drawing and reading a Blue card. Each of the other players then plays a White card to fill in the blank and takes a new White card from the deck. The person who read the Blue card then picks which White card they like the most or deem the most inappropriate and gives the Blue card to the person who played that card. And just like in horse show life the person with the most Blues wins. But just like in training horses these rules are made to be changed to work with what you want and are doing. Feel free to change the amount of White Cards to suit you and your friends. Some like to play with 10, some like to play with 5. In the end all that matters is having fun! Though we still feel that whoever fell off most recently should get some perks by being allowed to go first