One final quest deep into the dungeons of the Blackened Mountains before you can finally retire...
Your withered hand grips the handle of your sword. Blood mixed with sweat drips down your brow and finds its way into your eye, stinging for just a moment. Pounding footsteps shake the ground and you attempt to find a way to steady your aching feet. You turn to face your foe as you mutter to yourself, "I'm getting too old for this sh--."
Iron Helm is a solo-play dungeon crawler in which you play as a hero in search of one last major score before finally hanging up the sword and retiring.
Iron Helm uses a draw two, pick one mechanic, that has the player draw two cards from the dungeon deck, reveal one, and then decide to either resolve the revealed card, or take their chances with the unknown.
Players will start the game with some coin that they can spend to equip themselves for the adventure. Once inside the dungeon they will encounter nasty foes, discover treasures, unlock plot cards, and ultimately face a dungeon boss.
Along the way you will learn new skills and upgrade your character with new items. You will have to manage your health and energy levels, while trying to avoid hazards like getting poisoned or lost in the labyrinth.
The core mechanics in Iron Helm are based on the core mechanics of our other solo-play game Desolate, but with many new advanced layers. Each adventure should feel unique with multiple characters, items, foes, and loot to encounter and the player will have to make tough choices with each new dungeon card drawn.
In order to win, you must unlock the dungeon boss, by resolving a certain number of plot cards, and then vanquish your vie foe. You will then score points based on a multitude of accomplishments to determine how well your retirement will be.
---
---
Iron Helm comes housed in the glorious Deck Box that allows for a good deal of expansion. It is an extremely sturdy box and will accommodate sleeved cards with ease. Iron Helm also comes with 15 divider cards so you can keep all your cards organized. It truly is the perfect box for this game!
---
---
COMPONENTS
Boss Deck (3 cards) Character Deck (4 cards) Dungeon Deck (16 cards) Enemy Deck (18 cards) Loot Deck (18 cards) Plot Deck (9 cards) Potion Deck (10 cards) Skills Deck (12 cards) Trappings Deck (14 cards) 15 Deck Dividers 1 Map Level Card 1 Morality Tracker 12 Gold Coins 18 Health Tokens 10 Poison Tokens 14 Energy Tokens 10 Ration Tokens 12 Blessing Tokens 2 12-sided Dice 3 6-sided Dice 2 Red Halma Pawns
Bonus Includes two promo cards! The B.F.G. gun for Desolate and the Dodo Bird for the upcoming StoneFire!
---
---
Tutorial Video
---
---
Reviews
---
---
---
Do not forget to grad the Official Game Mat and Player's Mat for Iron Helm. The Game Mat organizes everything for the core game, while the Player's Mat keeps your character's stats and equipment organized. You can place the Player's Mat on either side of the Game mat so it is friendly to both left-handed and right-handed folks alike!
---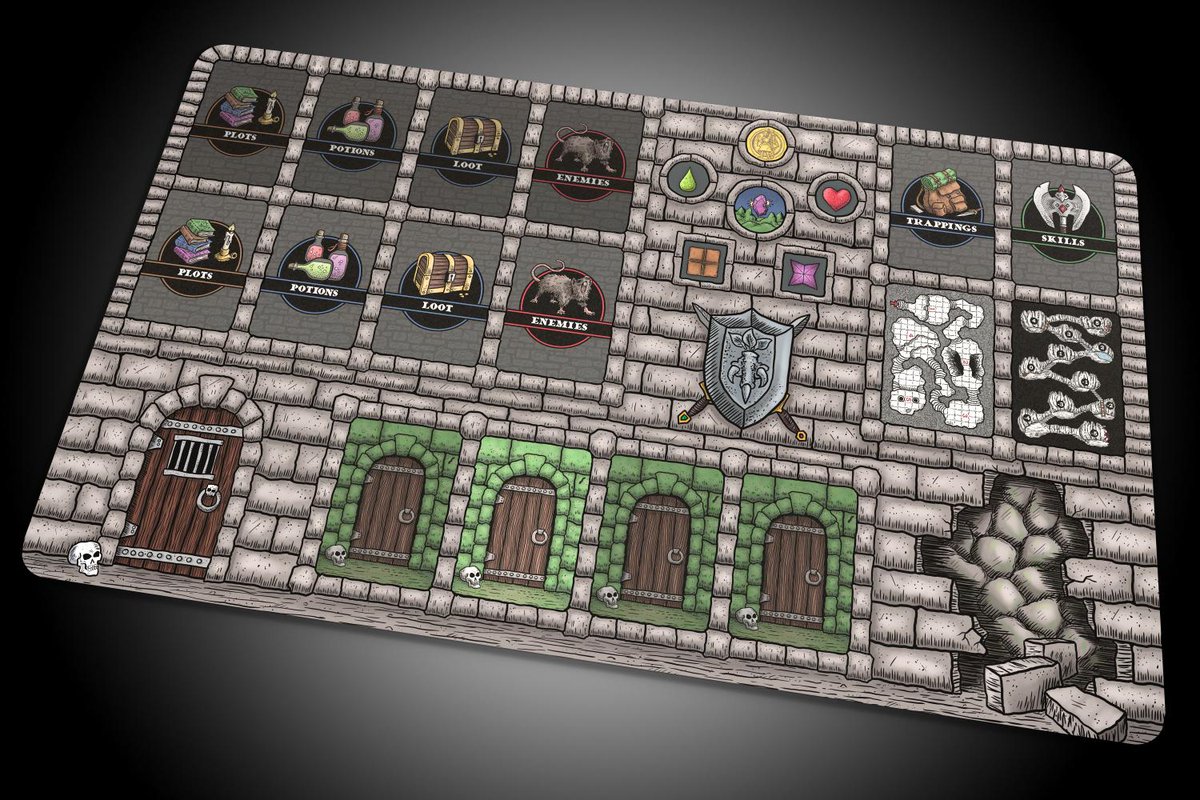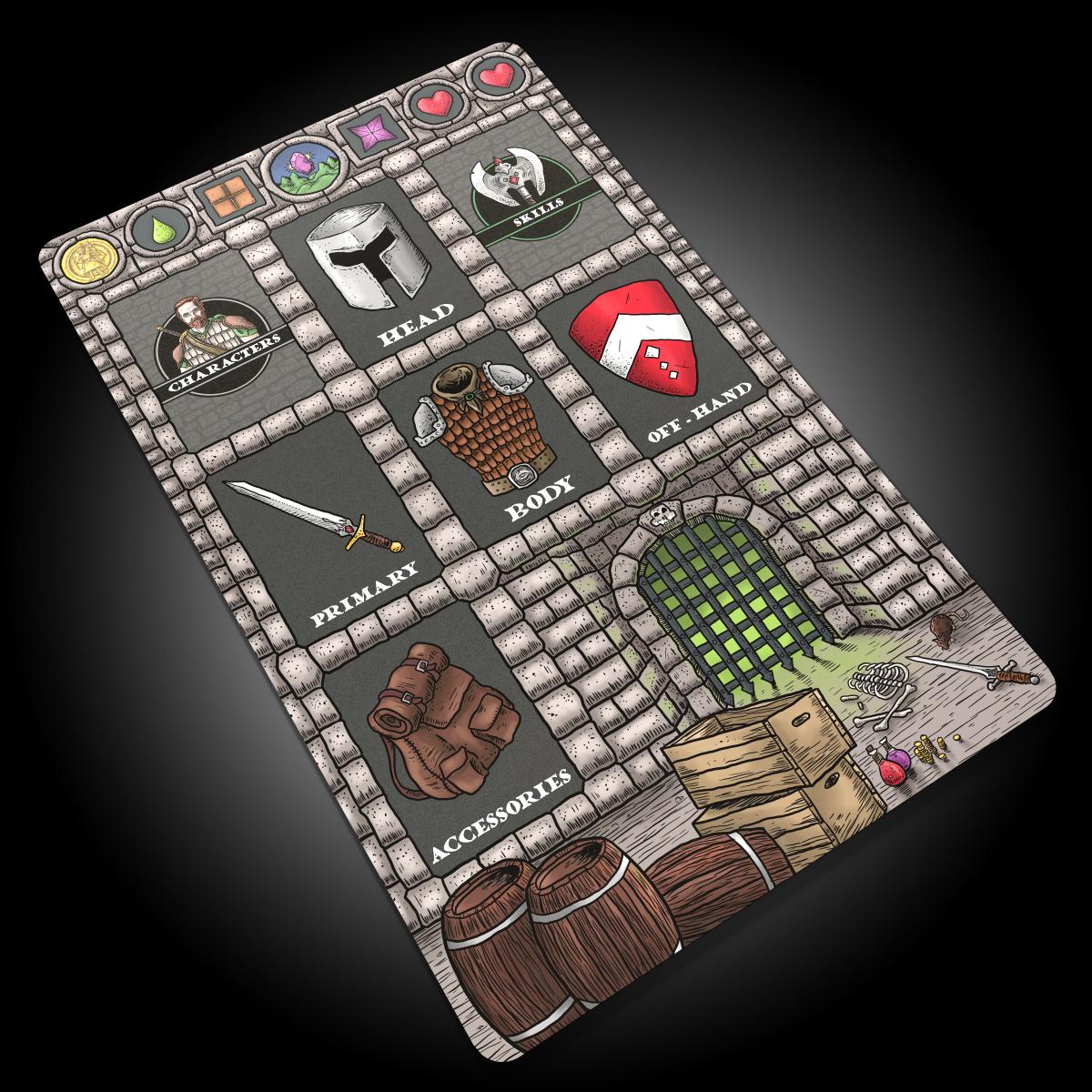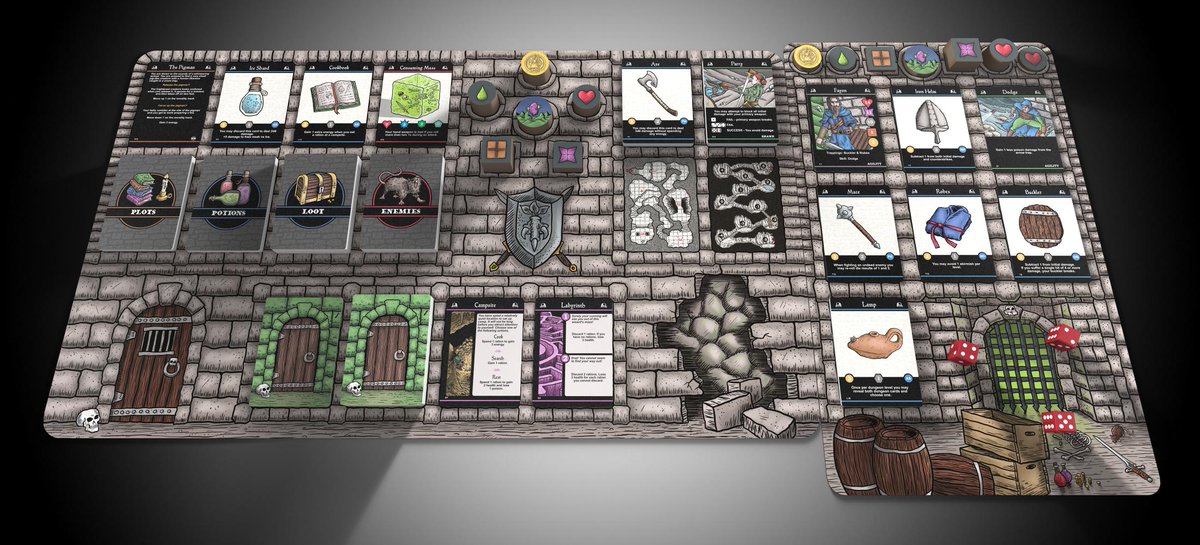 ---
Your journey doesn't end here! You may add you you quest with Adventure Packs, each adding all-new content including new enemies and a new boss to fight, a new character with new skills and trappings, and new unique loot and plot cards! Each 18 card booster adds to your story and increases the difficulty as your character grows in power. Add Adventure Packs to your order at checkout!
---
---