Players are wealthy patrons from the golden age of opera (c. 1800 - 1932), sponsoring the era's most talented composers (Verdi, Wagner, Bizet) and producing their operas in iconic opera houses of Europe. Each performance earns sponsoring player's profits measured in victory points. Rise to the level of Impresario and direct composers to follow your tactics. Selecting the best opera houses, casting talented artists, and deciding when an opera will have its final run of performances are just a few things successful Impresarios must master to win the game.
Operaopoly™ uses set collection, resource management, and hand management mechanics that gradually reveal new player abilities and action options. Impresario and Producer bonuses offer engaging win-win scenarios that spark player collaboration. You decide where and when to invest or reserve resources - advancing your influence throughout Europe and preventing others from monopolizing composers and their operas.
The game has distinctive opening, middle, and end-game strategies fueled by events.
In the beginning, players compete to sponsor composers who support their hand and unique bonuses. By sponsoring the majority of a composer's needs you become that composer's Impresario and immediately earn special abilities that help you later on in the game.
Example of Sponsoring Composers
The middle game focuses on producing operas. Players are rewarded for meeting goals set by prominent patrons from that era and becoming Executive producers. Casting qualified artists to fill roles and selecting the best venue boosts your victory points when the opera completes a successful run of performances. The middle game is also when you'll need to collaborate and manage your resources carefully.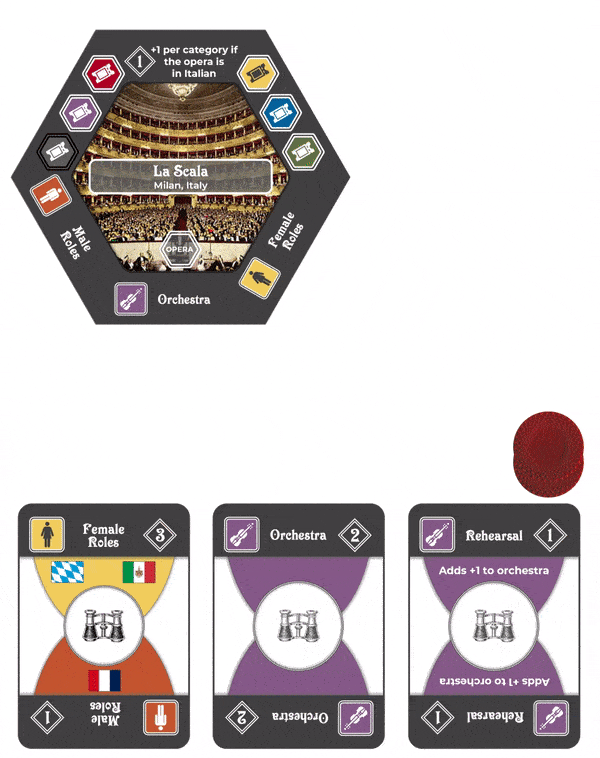 Hiring Cast and Orchestra
.
Changing Cast using higher-rated artists with rehearsals
.
In middle game, competition heats up.
Have you selected the most talented artists to "pack the house" or will another Impressario hire a better choice?
Will your composer's opera take Europe by storm or will a competing opera be one step ahead, booked at the choice venues?
Can you convince others to produce your composer's opera in new venues for a win-win scenario?
When the first opera comes to a close, it signifies the beginning of the end game. As operas close, composers leave the game, and players get rewarded for their sponsorship decisions, the game's pace quickens and tensions rise.
Bonuses Promote Player Collaboration
Operaopoly presents new concepts in set collection, progressive capabilities, and card placement. You'll see new approaches and strategies for winning each time you play. It's clever, collaborative, and competitive, keeping you on the edge of your seat until your very last turn.
Operaopoly comes in an artful game box that stores all its components perfectly. Have a look at its 3D model.
The game comes with a thoughtfully designed rule booklet and Player Aid cards to get you started playing straight away. Have a look!
Mobile Phone App
If you don't like reading rule books, no problem. Scan this QR Code to access the handy mobile web app that works on Android or iPhone. It's full of animations that illustrate game setup and how to play.
Are you reading this from your phone? If so, give it a try. Click Here.
Because Operaopoly plays as well with 6 players as 2, you can share its clever competitive, and cooperative nature with fellow theater, opera, and music lovers - introducing everyone to the world of opera. Download the Party Invite and Envelope to give your gathering 19th Century flair. Stream opera music to set the mood!
The Composers and their Operas
Operaopoly's composers represent the Italian, French, and German opera traditions from the golden age of opera. Through their journey, they influenced and motivated each other to grow and transform the art form into what we enjoy today.
Verdi - Italian Opera - La traviata
One thing about Verdi that critics can agree on is the transformational growth of his music over the thirty years his operas were released. La traviata, with its relatable characters, is considered one of the most "realistic" operas from his early releases. La traviata is frequently ranked as the #1 most requested opera of its genre.
Wager - German Opera - Der fliegende Holländer
Richard Wagner was one of the most controversial, influential, and transformative composers from this era. Wagner's emphasis was on combining several forms of art (scenery, orchestra, singing, acting) into one unified experience. Many of his operas focused on legends and folklore and Der fliegende Holländer is no exception. Wagner said that Der fliegende Holländer was what really launched his career. It is Wagner's most requested and popular opera.
Bizet - French Opera - Carmen
Initially, the French critics were indifferent to Bizet and his opera Carmen. It wasn't until after Bizet's death that both received praise. Musically, Bizet depicts his characters' emotions and suffering with great skill. With its brilliant melody and orchestration, Carmen is widely acclaimed and is one of the most popular and frequently performed operas of its genre.
The Opera Houses (Companies)
The choice of six opera houses/companies that supported Wagner, Verdi, and Bizet was extremely difficult. Ultimately, two from each of the game's three opera traditions were chosen. We searched for opera houses/companies that shaped opera's transformation before and during the 19th century. This is the list we ended up choosing.
Many of the world's greatest operas have seen their premières at La Scala in Milan. Verdi's life as a student began in Milan, listening to the works of Rossini, Bellini, and others at La Scala. Often considered a critical test for new operas, La Scala is home to some of the most knowledgeable opera aficionados. La Scala is home to a Theatre Chorus, Theatre Ballet, Theatre Orchestra, and the Filarmonica della Scala orchestra.
La Fenice in Venice was one of the first opera houses to make opera available to the general public, not just the cultural elites. La Fenice has hosted the premières of numerous Verdi operas, including La traviata. In almost every season, La Fenice performs operas from the three opera traditions found in Operaopoly. In 2023 it hosts La Traviata and Der fliegende Holländer.
The Paris Opera is the primary opera company of France. At Napoleon III's request, the Opéra Garnier in Paris was completed in 1875 for the Paris Opera. Its opulent and eclectic style makes it a must-see landmark within Paris where it served as the primary residence for the Paris Opera until 1989.
Opéra-Comique in Paris is an opera company founded in 1714 and famous for a genre of opera bearing its name with musical numbers separated by dialogue. Housed in several theaters over the years, Opéra-Comique hosted the premières of several notable French operas including Bizet's Carmen and operas from Jacques Offenbach.
The National Theatre Munich saw the premières of several notable German operas, including Wagner's Tristan und Isolde (1865), Die Meistersinger von Nürnberg (1868), Das Rheingold (1869) and Die Walküre (1870). Productions and world premières continue to take place at the National Theatre Munich.
During its initial run of performances, Wagner conducted Der fliegende Holländer at Berlin's Schauspielhaus. This is where notable German composers such as Carl Maria von Weber and E. T. A. Hoffmann held their premières. Partially destroyed during World War II, it has since been rebuilt into a concert hall and its name changed to Konzerthaus Berlin to reflect this transformation.
These six opera houses/companies helped launch the careers of these talented composers and their amazing operas. They provide the perfect backdrop for hiring the male and female roles and the orchestras of the game's three operas.
Version 3.3 :: March 2023
Versions 1 and 2 of Operaopoly were released in 2017 and 2018. Over the next five years, improvements involving simplified set collection and adding collaboration and interaction between the players were developed. In November 2022, a revival of Operaopoloy using these improvements began. We think you'll enjoy Version 3.3 with its clever, collaborative, yet competitive gameplay for exploring and sharing the golden age of opera with others.
If you would like to see rules for Operaoloy in French, Italian, or German please let us know. That is being considered.