Strategically build a beautiful 3D coral reef as players compete to attract sea creatures!
Beneath the shimmering ocean waves, the coral atoll is slowly growing. Fish dart between the colorful coral, and crabs peek out from below the rocks. The reef too is alive. Red sea whips gently sway in the warm currents and clownfish frolic amongst sea anemones. A delicate balance must be upheld between the coral and its inhabitants in order to maintain a thriving ecosystem.

Atoll is a strategic 3D reef building game for 2-4 players. The goal of the game is to attract the highest-scoring sea creatures to your coral over your opponents.
Players compete – and sometimes cooperate – to build coral reef structures that will attract different types of sea life. Different creatures yield points to the owner of the coral they reside in, which in turn can be used to buy more coral and perform other useful actions.
Rules
Atoll is easy to learn! The game is played over multiple rounds, with four phases per round:
---
1. Settlement Phase
New sea creatures are added to the reef
Each player privately draws and inspects 2 sea creature cards
A player may 'settle' a creature onto the reef if its living conditions are met.
The creature's token is attached to the appropriate coral. If the coral owned by a player, they receive the creature card.
---
2. Action Phase
Players earn points from and use the actions of one species of sea creature residing in their coral.
The Active Player rolls and privately inspects the Action die
They publicly nominate one of their species from their creature cards. The other players then do the same. Everyone collects points.
However...the nominated creatures must also perform the action nominated by the Action Die.
The Action Die value is revealed. Each player's nominated creatures perform the specified action.
---
3. Growth Phase
Sea creatures may leave, but players can purchase coral to grow the reef.
Remove any sea creatures from the reef that can't tolerate the current water quality
Players buy new pieces of coral from the nursery.
A piece of coral can be "owned" by a player by inserting an ownership cube into it - these are a limited resource so choose carefully!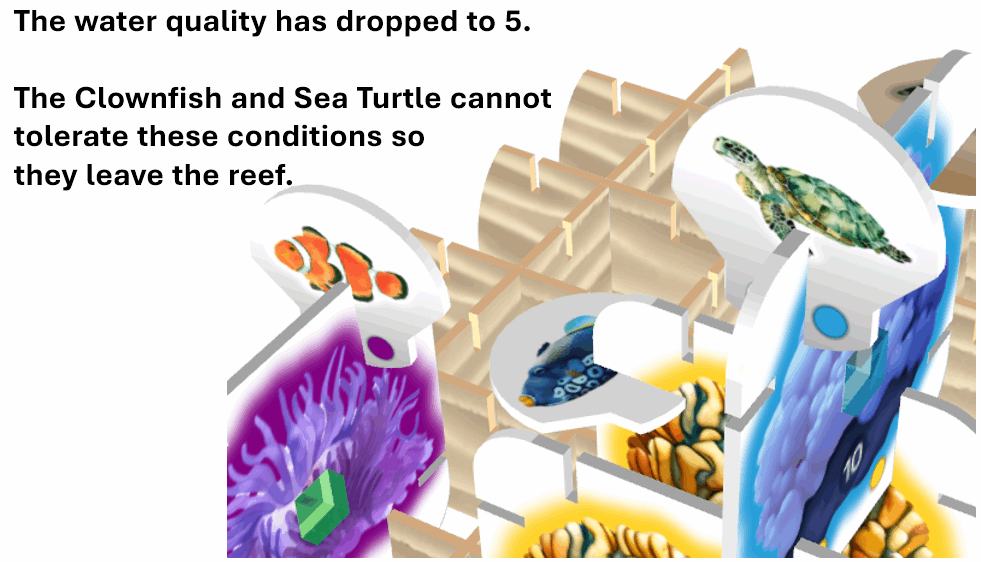 ---
4. Maintenance Phase
Players use their points to improve the reef's water quality.
Players can pay to remove troublesome detritus and sea urchins from coral
The reef's water quality is updated
If the water quality reaches zero or the ownership cubes, sea creature cards or nursery is depleted, the game ends. Otherwise, start another round