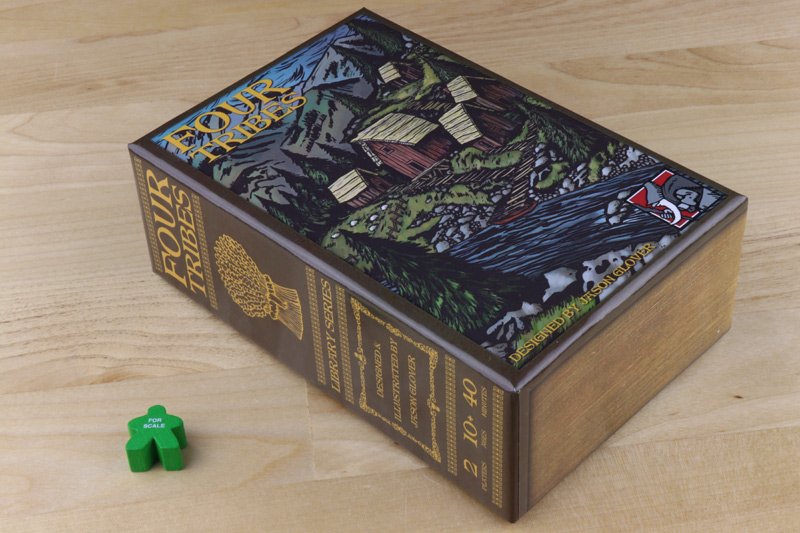 A bloody war between two mighty kingdoms has reached an impasse. Each ruler now turns to the northern tribes in an attempt to form an alliance, and turn the tides. Will you be able to capture the favor of the Four Tribes?
In Four Tribes, you and one other player will be placing cards, according to the rules, to either side of a row of six village cards. Most of these cards you are placing represent provisions that each village is lacking. Your goal is to appease the elder of each village more than your opponent by giving them higher ranked goods.
In addition to provisions, there are a host of special cards that you may employ that might be defensive in nature, or be a devastating blow to your opponent. Hand-management and timing is the key!
Four Tribes is a game of strategy and tactics that is balanced with a bit of luck. Each player draws from their own deck of cards, but each player has the same deck, so while you may draw on the weak-side early on, you will know that powerful cards are coming up that you can capitalize on.
Four Tribes can be setup, played, and put away in about 30 minutes, making it a great lunchtime or filler game. I specifically designed this game to be a game that I can play with my wife and since then have heard from dozens of couples who play Four Tribes regularly.
This newest edition takes everything that was loved about the original version, that was very successful on Kickstarter, and boils it down and redevelops it into something that feels much like the original, but is new at the same time.
Contents
28 Card Orange Army Deck 28 Card Purple Army Deck 6 Double-sided Standard Village Cards 6 Double-sided Winter Village Cards 6 Fire Expansion Cards 6 Flood Expansion Cards 3 Longhouse Cards 1 Blizzard Token 12 Village Elder Pawns 42 Wooden Houses (10 each of Blue, Green, Red, & Yellow, and 2 Black) 1 drawstring bag Instruction Booklet