Area control for 2-5 players. Place your Knights and move your Lord to control the villages.
Knights of the Diamond Table is a quick and simple area control game with hard choices and near perfect information. The game features isometric village artwork on diamond shaped tiles, and character meeples added for coolness!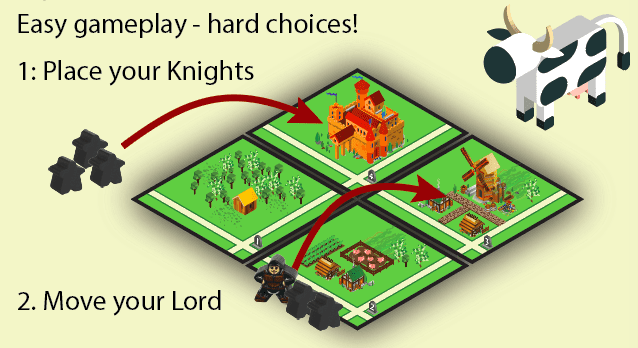 Full rules:
Play
Each turn you must perform two actions:
1: Place knights
Take between 1 and 3 Knights from your supply and place them onto one single tile on the board. You may not place new Knights - on a tile with an opponent's Lord. - on a tile where you already hold the majority
2: Move your Lord
In the first round, simply place the Lord onto the same tile where you placed your Knights. In the following rounds you must move your Lord to another tile. The Lord must bring along between 1 and 3 Knights when moving. The Lord can not leave a tile empty, but you can move all your Knights out if an opponent has Kights on the tile. You must never move to a tile with another Lord, and always to a tile where you end up having the majority of Knights. The Lord counts as one Knight.

Game end
The game ends when all players have placed all their Knights onto the board.
Scoring
There are three ways to score points
For each tile where you hold the majority, you score 1-4 points based on the value of the tile.

For your largest area of connected tiles, you score an additional 2 points per tile.

Check your Mission card: If you have majority on the tile with the displayed building, you score an additional 4 points.