Gain fame and fortune from a young Queen, the Royal Court, & Scotland's estates.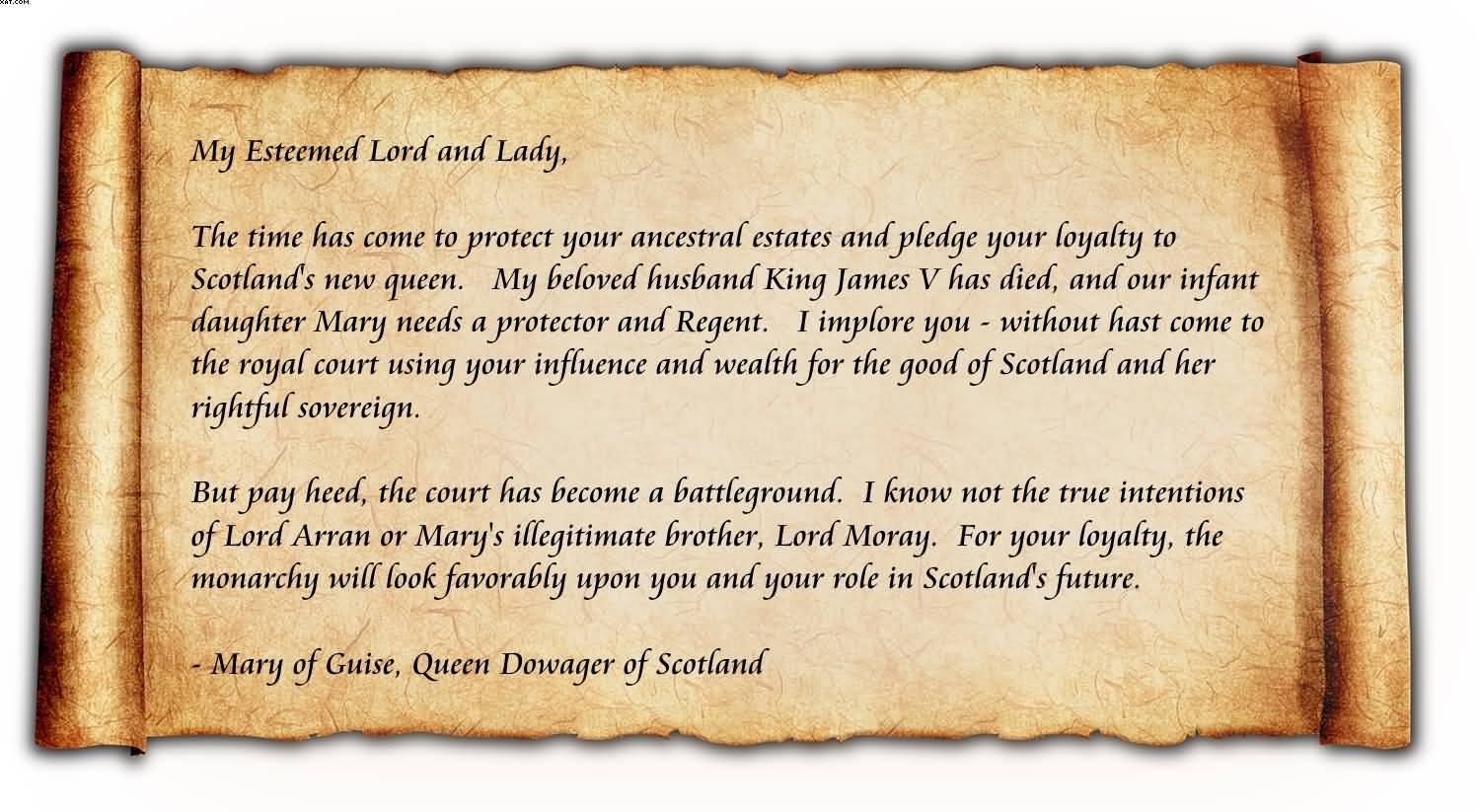 ---
Backstory
Mary Stuart, Queen of Scots is a role-playing card game set in 16th Century Scotland after the sudden death of King James V. It's a time of religious upheaval, military conflict, and high politics. As aristocracy converge to seize power, who will gain fame and fortune by controlling the young Queen, her Royal Court, Scotland's estates and its resources?
Object of the Game
In Mary Stuart, Queen of Scots, each player assumes the role of a powerful and influential Scottish Lord or Lady. You'll make decisions that determine the fate of a young Queen, establish your loyalties within the Royal Court and could make you the richest and most influential person in Scotland. Players build an empire of Scottish estates and foreign alliances, create wealth from their resources, and must attend the Royal Court to direct matters of state, influence the political power players from that era, and shape the events from Mary's life. Its a game full of strategy and making decisions that catch your opponents by surprise.
The game is played in two scoring rounds called Acts. Each Act has its own cast of state actors, strategies, and events from Mary's life that guide gameplay. An Act begins with players building their realm of estates and alliances. It progresses to the Royal Court where players use their wealth and influence to engage each other in political power struggles.
As the game advances, players bank points for their estates and its resource; for influencing and controlling character's from Mary's life; and, for being the first to complete key events from Scotland's past.
Goal
The goal is to have the most points at the end of the game. You can accumulate points during gameplay by being the first to complete any of an Act's 4 events, but most of the points are awarded at the end of the Act for your estates and their resources, and for your influence and control over the characters of the Royal Court. You need wealth in the form of Power Tokens to attend the Royal Court and you need estates to create wealth. Thus, you have to balance managing estates with becoming influential within the court - while responding to the surprising plays and devious tactics of your fellow aristocrats.
Free Downloads
Download the informative Quick Start Guide you can print for hosting a game night party and the Rules version 1.5 (Dec 2018).