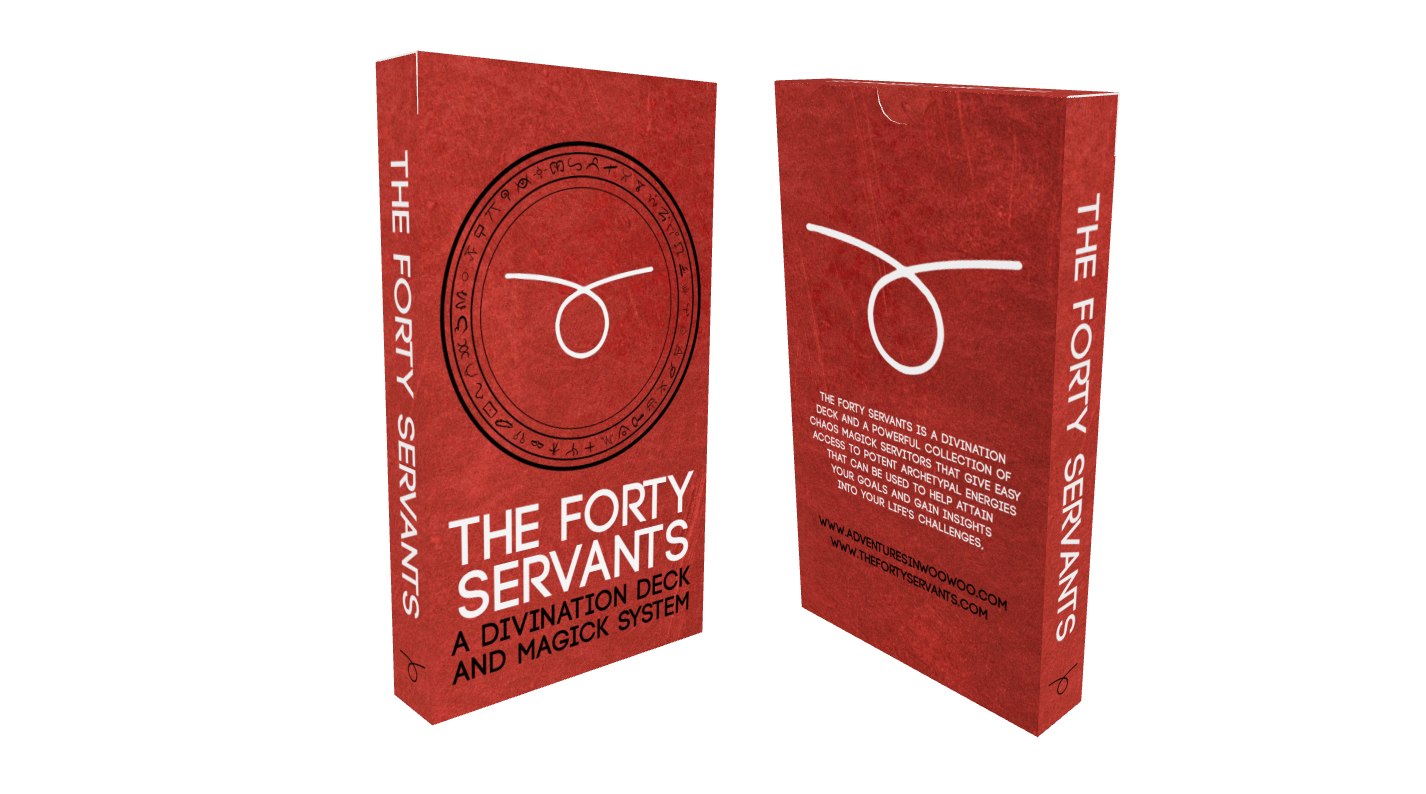 Update October 2023: New Card backing added that allows for "blind" Reversals.
WHAT ARE THE FORTY SERVANTS?
The Forty Servants is a 40 card Oracle Deck that can be used as a Divination system and a Magical system.
Like other Oracle Card Decks, it can be easily used for Divination to gain insight on problems at hand, discover insights from the past, or look somewhat into the future. However, unlike most other Oracle Decks it has a second purpose -a Magical purpose. The 40 Characters of the Deck can also be used as Servitors (Or Servants/ Powers/ Energies/ Archetypes) to get you more of what you want and less of what you don't want.
Please note that card descriptions and instructions for use, along with a host of supplement material is available for free on the website:
http://www.thefortyservants.com
The Grimoire of the Forty Servants is available here: https://amzn.to/3RutNhX The Little Black Book is available here: https://amzn.to/2xoEITn
The Forty Servants Video Course is available for FREE here: The Forty Servants Video Course
*SIZE: 2.75 x 4.75 *
CARD STOCK: All cards are now printed on 12pt 320gsm black core card stock. They are printed double sided with rounded corners.
FACEBOOK GROUP: https://www.facebook.com/groups/thefortyservants/
Here is a video showing the Standard Deck Vs The Deluxe Deck:
Or watch Foolish Fish's Video on the different decks:
NOTES:
- There are reports that some Countries are adding a customs charge upon delivery. Please check before purchase if your Country charges a customs fee on items shipped from the United States.
Please note that this version of The Deck does not include THE FOUR DEVILS. They are not part of the Forty Servants system, but are available as a bonus in the Deluxe Box Set version here: Forty Servants Deluxe Box Set (Includes The Four Devils)
TESTIMONIALS:
"The 40 Servants are better than cool beans covered in awesome sauce!! This versatile deck is not only perfect for divination (divinatory?) purposes, but is also an amazing magical system as well. A must have for card readers, and magic users alike!!!!!" - Shaman Smith
"The Forty Servants are an amazing, eye-opening, wonder that has helped me to find new avenues in my spiritual practice and given me new vistas for my own creativity. I am forever grateful to Tommie Kelly for his vision." -George S.
"I was in a really dire financial situation and the servants totally came thru for me-with even minimal effort. Specifically the Fortunate and Jerdehl. Since then, I have been obsessed with them. They're the best!! I'd recommend them to anyone who wants to improve all areas of their life-they're so diverse. Thanks Tommie !!" - Renee R
"The Forty Servants are so easily integrated into a magical life and practice that they began working for me the first time I opened the box, before I even deliberately invoked them or even introduced myself. They are truly elegant, powerful entities and a pleasure to work with." - Nickolas L
"I have been so impressed with the 40 Servants deck. It's beautifully laid out and easy to understand and work with. Highly recommended." - Raven Terrapin
"This is the first divination system I've run across that includes a flexible magickal component that creates a palpable emotional and psychological relationship with the cards. This is the most accurate, meaningful system I've used. It's also the least convoluted or contrived. It doesn't just give you information, it offers you a way to use the information to make tangible changes in your life." - Wendy L.
"They helped Brazilian people in general with our daily struggles, creativity, shadow work and so much more." - Lua Valentia
"When I first found the Forty Servants, they were exactly what I had been looking for - a magick system and oracle deck all in one. Half a year later, I'm even more in love with them, and work with them on a regular basis. The artwork is beautiful, and the cards are very effective in helping me tap into the energies that I wish to call into my life. Thanks Tommie for creating such a beautiful, intuitive system!" - Karin S, London
"The Forty Servants are part divination, part servitor-style chaos magick, and all around awesome. I use them in my personal work as well as for tarot clients and am consistently impressed with the results (as are my clients!). A big thanks to Tommie Kelly for creating them, and to the Servants for all they do!" - Susannah G-P, Antifragile Tarot, USA