Here is a video in which Tommie Kelly and Duncan Barford, the creators of the deck, talk about the Nidana Cards, the general background and how to use them:
WHAT ARE THE NIDANA CARDS?
Every oracle offers a model of reality and a means to consult it. The Nidana Cards offers a model based on Eastern Buddhist teachings (specifically, suttas DN 15 and SN 12.23) and a means of consultation based on the Western Tarot. The design of the Nidana Cards is a collision of Western and Eastern esoteric imagery, created from a collaboration between two western magicians, Duncan Barford and Tommie Kelly.
The meaning of nidana is "cause". The Buddha taught that reality is best understood not so much as an objective, definable "thing", but as an experiential process by which things come to be the way that they seem. The nidanas are phases or stages in that process. They form a sequence of causes that delineates the process by which nothingness comes to seem like something, but also (moving in the opposite direction) the process by which we can liberate ourselves from the appearances of things.
What the Nidana Cards offer, therefore, is an exquisitely detailed set of symbols that lay bare the dynamics of manifestation (the way things come to appear the way they seem) and also of transcendence (the way beyond appearances towards seeing more truthfully).
On the following pages are descriptions of each card, presented in the order in which they appear in the entire sequence of nidanas, as taught by the Buddha. The fourteen cards from Death to Ignorance delineate the stages of manifestation, the means by which appearances come into being. The remaining twelve, from Suffering to Wisdom, are the transcendental nidanas, which liberate us from appearance into the true nature of reality.
It's important to remember that each of the cards represents a transition, a stage in a process, rather than a "thing" or some kind of static situation. Like the Tarot, each card has a reversed meaning, which is employed when the card appears upside-down in a reading. The reversed meaning points specifically to a mistake having been made: the false assumption that what the card represents is something static, fixed, separate, or unquestionably real. On the contrary, when we are seeing clearly, then we recognise how our experience is always in transition, always presenting appearances that are fluxing and changing within a larger process.
This is the key principle in using the Nidana Cards as a new and unique system of divination. Any Tarot spread that works well using the Major Arcana of the Tarot is likely to work well also with the Nidana Cards. Where the Nidana Cards differ from the Tarot, however, is in the way they will tend to focus upon the stages and steps by which a particular outcome is likely to present itself, and the dilemmas and potentials for misconception and misperception that will lie along the way.
Duncan Barford, March 2023
LISTEN TO DUNCAN's OEITH PODCAST EPISODES ON THE NIDANAS: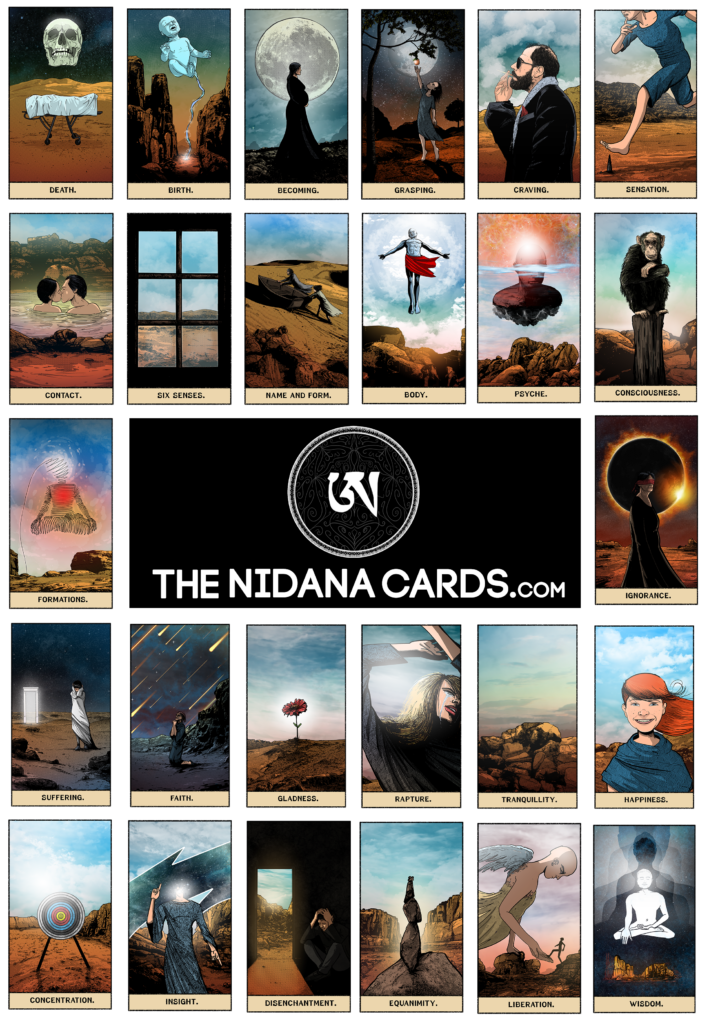 THE NIDANA CARDS
Click on name to see the card and get more information:
DEATH BIRTH BECOMING GRASPING CRAVING SENSATION CONTACT SIX SENSES NAME & FORM BODY PSYCHE CONSCIOUSNESS FORMATIONS IGNORANCE SUFFERING FAITH GLADNESS RAPTURE TRANQUILITY HAPPINESS CONCENTRATION INSIGHT DISENCHANTMENT EQUANIMITY LIBERATION WISDOM
---