Introduction
Anomalies are starting to wreak havoc to the world, and people are dying in countless unspeakable ways. As such, you will have to sacrifice innocent people to contain them once and for all. But are your sacrifices worth it?
Set in the extensive stories of the Front Page - SCP Foundation , Uncontained is a strategic card game featuring all-time favorites such as SCP-173, SCP-682, SCP-096, and a whole lot more! In this game, prepare to contain anomalous SCP items, sacrifice D-Class Personnel, play scientists and insurgency moles, and survive scenarios like the XK-Class End of the World Scenario!
Sacrifice civilians. Contain anomalies. All for the greater good!
Gameplay of Uncontained
The overall gameplay of Uncontained: An SCP Card Game is inspired by Unstable Unicorns and Call of Cthulhu LCG with simple mechanics that can lead to complex gameplay scenarios.
The gameplay that you can expect from this SCP board game is your usual card game mechanics like drawing cards or physically moving them. However, some cards have interesting twists, such as "changing" every other card into copies of itself, cards that just bounce from player to player, cards that just straight-up make the game hard to play and downright scary, and cards that can do anything you want!
How to Play this SCP Game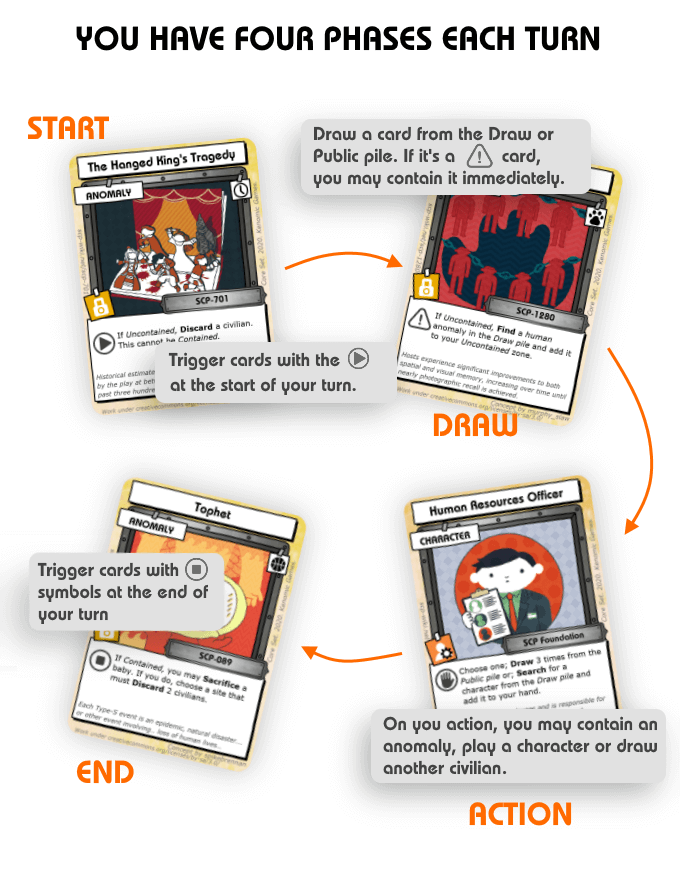 Video Review & How to Play
---
How to Play (via Tabletop Simulator)
---
Credits
Find out MORE about this scp game here: Uncontained - SCP Card Game by Kenomic Games
The Front Page - SCP Foundation and this SCP game are licensed under a Creative Commons Attribution-ShareAlike 3.0 Unported License.
This SCP game is Illustrated by SINSEKAI .
More About this SCP Game