In this board game 2-5 ancient colonizers pilot their ships to unknown Mediterranean shores and establish colonies in fortuitous locations. Some decisions you will face:
Establish a colony as soon as possible or pursue the ideal location?
Establish close to others to enhance trade, or remain safe and remote?
Re-invest to grow your colonies or pursue those of others?
Send your ship home or use it in the new waters?
Create more colonies or thrive safely behind strong walls?
Negotiate the path between speedy growth and the disruption it causes?
In ancient times nearly every vacant Mediterranean coastline was colonized by one group of Greeks or another. In the game you may play the
tyrannical Corinthians
belligerent Spartans
Euboean explorers
thrifty Phocaeans, founders of ancient Marseilles and famed as the best seafarers of all the Greeks.
Phoenicians, whose seafaring and trading abilities are still legend to this day
The setup is always different and each side has a unique powers, making for a novel and refreshing experience every time.
WHAT PLAYERS SAY
"Gotta tell you, [it] really hits the "sweet spot" for me: an historical theme expressed through (as opposed to – German-style – arbitrarily dropped on top of) very tightly crafted game mechanics. I guess it's the Grognard in me that finds this extra dimension of "meaning" so satisfying – game abstractions with a purpose." —Garry Haggerty
"Synopsis: Jim Dunnigan and Reiner Knizia are actually one person and the whole direction of historical game design avoids 25 years of specialist dead-ends. I really want to play this game." —Garry Haggerty
"It's a good enough game. It's an interesting Euro-style game.... Had it appeared [earlier] would have been a classic." —Enrico Viglino (calandale)
NEWS
9/18/2017 Fleet counters replaced with wooden ship tokens! See examples here: Cargo Received
8/30/2017 Rename to Ancient Colonies (from Poleis). Add ice cubes as part of the package instead of sold separately. Replace box with a plastic ziploc to lower cost.
12/7/2016 Since the filming of the videos below, a number of improvements have gone into the game, basically addressing all of the issues that have been raised. For more information please see the list of improvements.
LINKS
If you like games of civilization, check also The First War, the game of discovering a new world, building up your technology and conquest.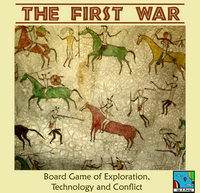 Video Introduction:
Video playthrough, part 1/2:
Video playthrough, part 2/2:
Video Review:
What This Is:
This is not a mass-produced game, but printed-on-demand . We have uploaded the artwork, rules and specifications, but The Game Crafter makes it only when you order it. Learn more.