(This game is also available in an English language edition.)
Un juego, con "draft" de dados y orden de fase variable, sobre la carrera hasta lo más alto del escalafón.
Capta clientes, obtén fondos y contrata especialistas para promover a tu equipo de candidatos a través de la histórica carrera de los honores en la Antigua Roma. ¡Uno de ellos puede llegar a ser el Primer Hombre de Roma!
Dos dados en cada uno de los 5 colores representan
Senado
Pueblo
Ejército
Dinero
Tiempo
El jugador tira uno de cada color más uno de su elección.
De estos, selecciona uno para sí mismo y pasa el resto al siguiente jugador.
Cada dado seleccionado corresponde a una localización particular en el tablero personal del jugador
Cada localización otorga una ventaja diferente, como
más clientes
ingresos mejorados
un préstamo
la capacidad de avanzar candidatos arriba en la Carrera de los Honores.
especialistas que dan habilidades para romper las reglas.
Cada una de estas ventajas se produce durante una fase diferente.
El detalle ingenioso es que, al igual que en Puerto Rico, las fases en sí mismas no están establecidas, sino que están determinadas por los jugadores. Cada tipo de fase se determina mediante el mismo proceso exacto que el comentado arriba. Esto significa que los jugadores sólo descubren, a medida que van jugando, los tipos de fases que se resolverán en el turno actual, y si ocurrirán o no en absoluto. Debes gestionar el riesgo de no saber de antemano qué sucederá y qué no, pero tienes posibilidad de influir en el resultado.
La caja incluye:
68 cubos acrílicos ("hielo") de 8mm
28 fichas de moneda
24 peones en cuatro colores de jugador
20 anillos de plástico en cuatro colores de jugador
12 cubos de madera de 8mm en cuatro colores
10 dados de seis caras en cinco colores
4 tableros de jugador
1 tablero
1 ficha de jugador inicial
1 libro de reglas de 8 páginas incluyendo trasfondo histórico
Así que si crees que tienes lo necesario para convertirte en el PRIMER HOMBRE DE ROMA, "Alea iacta est!" - ¡QUE LOS DADOS VUELEN ALTO!
Links:
Imagen de cubierta: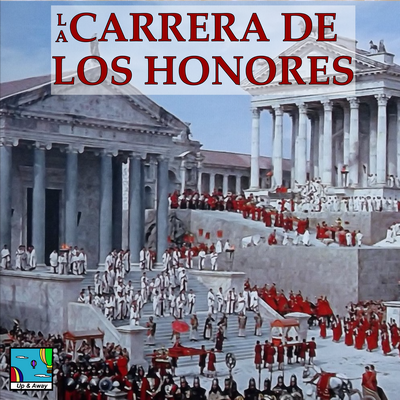 Si te gustan los juegos ambientados en la Antigua Roma, echa un vistazo también a ROME IN CRISIS,, un juego sobre la caótica situación durante el siglo III d.C. además de THE REPUBLIC OF CARTHAGE, sobre el mayor rival de Roma.
| Rome in Crisis | The Republic of Carthage |
| --- | --- |
| | |
Publicado el 23 de Octubre, 2018.